Bullet Proof Glass For Schools
Gun violence continues to be a major concern in educational institutions across the nation. The number of school shootings continues to increase every year and since 2018 there have been more than 105 of these incidents.  For this reason, creating safer environments for students and faculty has become more critical than ever. While there are many ways to increase a school's overall security, one method is to strengthen the exterior and interior structure of the building.
Consider installing window and door systemswith bullet proof glass from U.S. Bullet Proofing. We manufacture and supply high-security windows, doors, wall systems and other products that are resistant to ballistics, blasts, storm impact/ tornados and forced entry. Reach out to us to learn more!
Bullet proof school doors and windows can significantly deter, delay or even completely prevent unauthorized entrance to school buildings. They can also provide ballistic protection from active violent offenders. Read on to learn more about the benefits of these protective materials.
How Does Bullet Proof Glass Work?
Bullet proof glass uses a protective glazing system. In other words, the panels consist of multiple layers of glass that are fused together. When a bullet or other projectile strikes the surface, the energy f is dispersed throughout the material allowing it to stop and 'catch' the projectile and prevent it from entering the 'secure' side of the glass.
Benefits of Having Bullet Proof Glass for Schools
Bullet proof windows for schools are a necessity for the well-being of students and faculty. The benefits of these windows and doors from U.S. Bullet Proofing include the following:
Increased protection: Faculty and students can have peace of mind knowing that the windows and doors in the school are reinforced with bullet proof glass.
Seamless integration: Our unique product designs have been created to complement today's architectural windows and doors while still offering maximum protection.
Energy efficiency: U.S. Bullet Proofing is one of the few manufactures in the industry that offer a complete energy-efficient solution with thermally broken windows. This means you'll get windows that contribute to lower utility bills for your facility
Where should bullet resistant glass be installed in my school?
Beginning at the exterior of the building, all store front windows, curtain wall windows and doors should be built with bullet resistant glass not only to prevent forced entries but also to protect from ballistics, blast and storm impact.
On the interior of the building, the first priority if often the reception area or if there are common areas where visitors conduct transactions at the school such as the ticket windows at the stadium. The reception areas should be designed to be facing the main entrance of the building to be identify approaching individuals to the building which may be carrying visible firearms. Building a secure vestibule for guests is an important measure that many schools are implementing to screen and protect unwanted visitors or people with weapons, to enter the school. There are many solutions readily available nowadays that can also provide bullet resistant glass protection for reception areas while still being able to maintain a modern and welcoming entrance for visitors.
THE IMPORTANCE OF SCHOOL SECURITY SOLUTIONS
Unfortunately, no school or institution is safe from gun violence. While no one can predict when the unthinkable might happen, active shooter preparedness is imperative to keep students and educators safe. In 2021, the U.S. saw 202 incidents of gunfire on school grounds, making security solutions for schools a priority now more than ever. Because senseless acts of violence may occur at any time, educational institutions are seeking to invest in active shooter solutions.
When students know what to do in an emergency, they are less likely to panic. Evacuation plans and active shooter drills are as common today as fire and tornado drills. They help inform students about best practices in the event of a school shooting. A robust evacuation plan includes an escape route, a backup escape route and a designated safe location outside the school building.
Students should be aware of places in the classroom in which to hide and recognize the importance of silencing phones in the event of an emergency. Teachers must also be cognizant of basic safety procedures — such as understanding how to lock and blockade a door — and keep a fully stocked first-aid kit in the room. Basic knowledge of first aid and CPR is typically required of teachers, but administrators should make sure that all teachers feel comfortable with these processes.
New construction is another option to aid in deterring violence in schools: Experts have developed floorplans that are explicitly designed to promote safety, and administrators have the option of investing more heavily in stronger, more impenetrable materials. Sometimes these small considerations can have a life-saving impact, whether in the event of unexpected violence or a natural disaster such as a hurricane or tornado.
Even if the safety measures of materials and construction need never be used, they hold great power in providing assurance for teachers, parents and students. It can be easy for administrators with already tight budgets to try to find ways to save money, but security is not the area to scrimp. Thicker walls and partitions cost more, but their life-saving abilities are priceless, and they promote safety in the face of any type of incident. Remembering that threats can come from any direction is important when making investment decisions.
Peace of mind is paramount to create a secure school space, since there is more than just basic safety at stake. Students' emotional and academic lives are affected every time another shocking headline makes the news. Most young Americans want to succeed in their studies and pursue higher education or a career. The anxiety and worry of the current climate emphasize the necessity of strong teachers and counselors as well as active shooter protection products. There is no single solution to widespread gun violence, but equipping students and faculty with emotional support and targeted initiatives can help make everyone more secure.
Physical preparedness is a major component of school safety, but educators and guidance counselors should also be ready for emotional distress. Providing reassurance and solutions for grief and stress are key to creating an environment where students feel secure and ready to learn.
U.S. Bullet Proofing offers one of the most extensive product lines of secure windows and doors available with different forms of protection. To learn more about our products and the safety solutions available for your school reach out to us today.
USBP is a Proud PASS Partner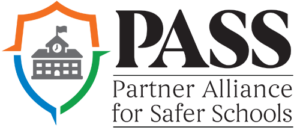 U.S. Bullet Proofing is proud to be a partner for the Partner Alliance for Safer Schools. We are committed to providing comprehensive school and campus security solutions. PASS is a very highly regarded organization that provides in-depth information and unbiased guidelines for safeguarding school facilities. Created by a diverse team from the security, education, infrastructure, and corporate sectors, it offers comprehensive solutions for ensuring school safety and security.
To read the full announcement on our partnership, click here.
Here are a few helpful resources for helping to plan security and safety in your school.
PASS Resources:
PASS Safety Security Checklist-Rev.3-21-23
PASS Safety and Security Guidelines – 6th Edition – Rev.3-21-23